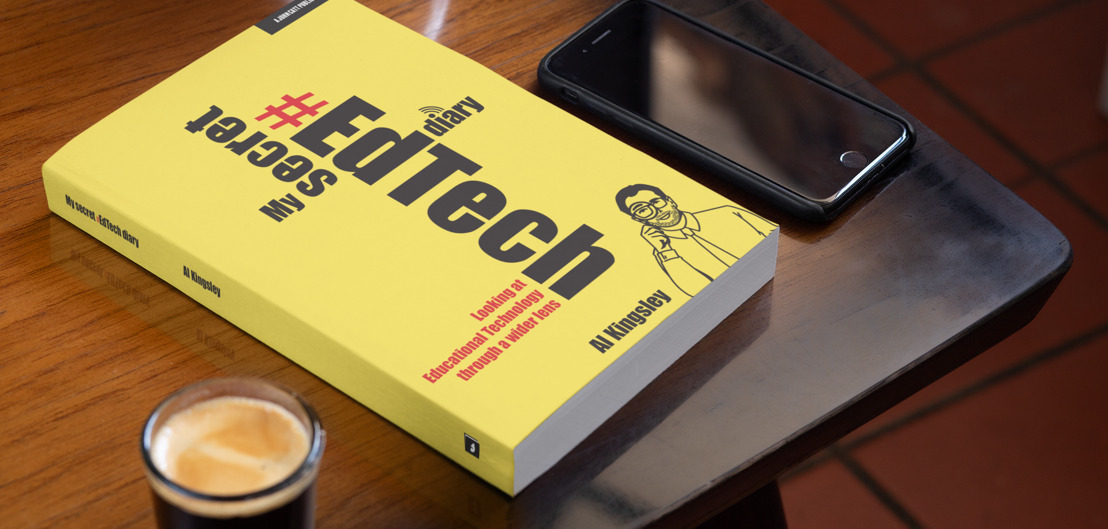 Al Kingsley Book "My Secret #EdTech Diary" Releases Globally on July 14, Gives an Insider's View of Education Technology Historically and for the Post-Pandemic Future
My Secret #EdTech Diary relays Al Kingsley's perspective about where education has been and how those lessons can improve tech integration and the school-vendor relationship post-COVID
Tuesday, June 29, 2021 —

ATLANTA - Looking at educational technology through a wider lens is the subject of a new book by Al Kingsley, who has also founded education trusts, served on several school boards, and runs a global education technology company, NetSupport. My Secret #EdTech Diary gets readers to think about the past, present and future role of educational technology and how it influences and shapes our education system. Tweet this news.

Education technology is nearly ubiquitous in schools but primarily in supportive roles. When the pandemic hit, technology became the only way for learning to continue as students and teachers learned and worked apart from each other. An explosion of questions then arose as school leaders, teachers, and parents then began questioning if the reliance on technology was a bane or benefit to learning. Mr. Kingsley explores these questions and lays a framework for school leaders to plan the technology-learning connection for the future.

"Some people think of edtech simply as individual and distinct solutions to single problems they find in the classroom such as how to have a video conference with 30 students," says Kingsley. "But this is the sea-change moment when we want to expand that view and be strategic in selecting and integrating learning technology. Now is the time to be visionary, and plan where tech fits in, where it doesn't, and solidify its role as a learning product, not just tech for tech's sake."

Kingsley has spent over 30 years working and volunteering in the education sector and this book brings together his knowledge and experience of education technology to share in an easy-to-read conversational format. My Secret #EdTech Diary is not only a commentary on educational technology, it is a helpful guide of tips and suggestions for best practice, suggested questions schools should ask themselves and vendors as they plan for and select solutions. Mr. Kingsley gives advice on co-producing solutions with vendors, and includes practical checklists, guidance in strategic planning, and contributions from trusted peers in the industry.

Educators and parents are invited to join several experts discussing My Secret #EdTech Diary and the author's insights during a free panel discussion, Looking at EdTech Through a Wider Lens, on July 14. The panel moderated by ICT Evangalist, Mark Anderson features education writer Derek Newton; Education Technology Lead at Deira International School, Linda Parsons; Director of General of the British Educational Suppliers Association (BESA), Caroline Wright; CEO of C-Learning and Director of EduFuturists, Steven Hope; along with Al Kingsley.

My Secret #EdTech Diary is published by John Catt Educational Ltd and is available in paperback from Amazon starting July 14.

About Al Kingsley
As the CEO of UK-based software development company, NetSupport, and highly regarded in the education sector at all levels in his local area and beyond, Al's zeal for all things education-related sees him in numerous high-level voluntary roles (e.g. being the Chair of two multi academy trusts, a regional Apprenticeship Ambassador for the East of England, a member of the Regional Schools Commissioners Head Teacher Board and more), regularly speaking at events across the world, contributing a variety of best practice articles in the education press and guesting on numerous podcasts – as well as co-hosting the Check it out! show (a monthly opportunity for EdTech solutions providers to highlight their products to schools) @AlKingsley_edu AlKingsley.com.

About John Catt Educational
Recently celebrating 60 years of publishing high quality guidebooks, magazines and educator-focussed professional development books, John Catt Educational is the leading independent publisher in the sector. John Catt Educational publishes up to 50 books a year and works with some of the most highly regarded educational authors in the United Kingdom – including, amongst others: former Secretary of State for Education Rt Hon Nicky Morgan MP; Former Her Majesty's Chief Inspector of Schools Sir Michael Wilshaw; and Sir John Dunford, former general secretary of the Association of School and College Leaders.

###

Review copies available for the media upon request


Quotes from Al Kingsley, author of My Secret EdTech Diary:
"...looking for the positives of 2020/21, EdTech has suddenly become significantly higher profile in the priority list of education discussions..." page 13

"It shouldn't be a surprise to anyone that when it came to the challenges of delivering online learning, technology and the right application platform provided the infrastructure needed, but the human-to-human element is what made the lessons and determined the outcomes." page 61

"One of the key takeaways throughout the pandemic though, from someone always looking at a glass as half full, was the level of growth mindset that educators in all areas showed." page 65

"While well-managed deployments of technology can help to achieve this, there are numerous ways schools can make sure they are squeezing every drop of value from their investment in EdTech." page 104
Quotes from Bob Harrison, professor, at the University of Wolverhampton in the foreword to My Secret #EdTech Diary by Al Kingsley:
"The design principles of our education system stem from a bygone era and were predicated on the dominant industries at the turn of the century…" page 11

"...we need a generation of paradigm pioneers to rethink and redesign our education system." page 11

"The COVID-19 pandemic has been a massive shock to the system - and we must learn from it." page 11

Summary: NetSupport CEO's book My Secret #Edtech Diary looks back at 30 years of edtech history and looks forward to the post-pandemic future for education.
Tweet: @NetSupportGroup CEO @AlKingsley_Edu shares 30 years of perspective and lessons learned about #education and #tech in his new book My Secret #Edtech Diary. #edtech #k12 https://alkingsley.com/my-secret-edtech-diary-edtech-book/
Tweet 2: "If you want advice about educational technology…" Al Kinglsey is the expert. Educator quote about My Secret #EdTech Diary, book out July 14. https://alkingsley.com/my-secret-edtech-diary-edtech-book/
Jennifer Harrison Pando Public Relations