classroom.cloud Earns Prestigious Certification from Education Alliance Finland
classroom.cloud, from NetSupport, lets teachers keep students on task when learning online, no matter where they are
ATLANTA - May 4, 2021- NetSupport today announced that its classroom management solution, classroom.cloud, has been certified by the prestigious Education Alliance Finland, one of the most respected, rigorous evaluation processes in education technology. Click to Tweet.
Finland has one of the top education systems in the world, routinely topping international rankings and evaluations. Education Alliance Finland (EAF) evaluates education technology products based on standards set in and for Finland's schools, including review by Masters-level Finnish instructors. Earning EAF Certification, formerly known as the Kokoa Standard, is considered an elite-level honor reflecting the highest in pedagogy and technology efficacy.
Only about half of evaluated products achieve EAF certification.
In the 74-page assessment from EAF, classroom.cloud received a 94% score on "pedagogical approach" and a 4.07 in "learning engagement." Both scores are considered to be excellent. The report says, "In classroom.cloud teachers have a wide range of tools to manage the classroom actions and are able to produce versatile tasks and contents to support remote lessons."
"The certification verifies that efficient, appropriate use of classroom.cloud leads into positive learning outcomes," said Saila Juuti of EAF. ​
"We are honored and gratified by the certification from Education Alliance Finland," said Al Kingsley, CEO of NetSupport. "It really is the gold-standard of education quality and it speaks to the effort and attention we've put into designing a product that really works for teachers and school to manage their remote learning, whether that be in a classroom or distributed outside of school." ​
classroom.cloud was announced for release in the United States in March and is now widely available. As part of the US announcement, NetSupport is providing teachers a free 30-day trial of classroom.cloud.
classroom.cloud provides unique flexibility, allowing teachers to monitor the applications and internet use on each student's computer no matter where they are connected. With classroom.cloud, a teacher can launch a learning tool or open a website for every student in the class at the same time or bring individual students back on task when they have wandered away from the lesson.
NetSupport is one of the longest standing education technology companies in the world and has more than 18 million devices running on its systems and platforms, including approximately 5 million in the United States.
In addition to the EAF certification of classroom.cloud, the company's core solution, NetSupport School recently won the 2021 EdTech Digest award for best "classroom management solution."
About NetSupport
​NetSupport is an award-winning developer of classroom instruction, IT management, online safety, and remote learning software solutions for schools worldwide. Since 1989, the company has produced tried and trusted products that have an installation base today of more than 18 million users in more than 120 countries. For more information about its solutions, visit www.netsupport-inc.com
About EAF
​Education Alliance Finland offers a global quality standard of pedagogical quality for learning solutions. The EAF certification guarantees that the solution has been evaluated by an independent third party operator, specialized in quality verification of learning solutions. ​ The certification was launched in 2016, and by 2021 EAF has evaluated over 250 learning solutions from 30 countries. ​ Visit catalog of certified solutions https://educationalliancefinland.com/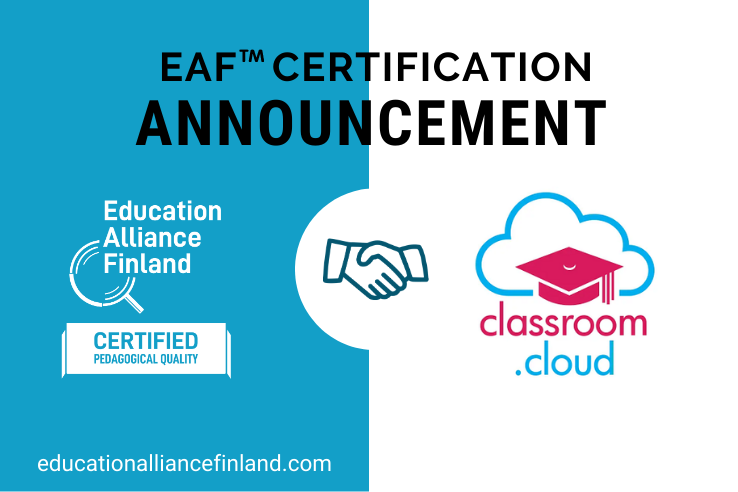 Media Contacts:
​Jennifer Harrison for NetSupport
​[email protected]
​+1 916-716-0636
EAF contact
​Olli Vallo
​[email protected]
​+ 358 40 7576961
Summary: classroom.cloud from NetSupport certified as "excellent" in pedagogical approach and learning engagement by the Education Alliance Finland.
Tweet 1: The #EducationAllianceFinland certifies classroom.cloud, calls it excellent in pedagogical approach and learning engagement. @EduAllianceFi @NetSupportGroup #education https://classroom.cloud
Tweet 2: "The certification verifies that efficient, appropriate use of classroom.cloud leads into positive learning outcomes," says Saila Juuti of #EducationAllianceFinland @NetSupportGroup #edtech #learning https://classroom.cloudTags: NetSupport, classroom.cloud, ClassroomManagement, edtech, education, Education Alliance Finland, product review, Finland, learning
---