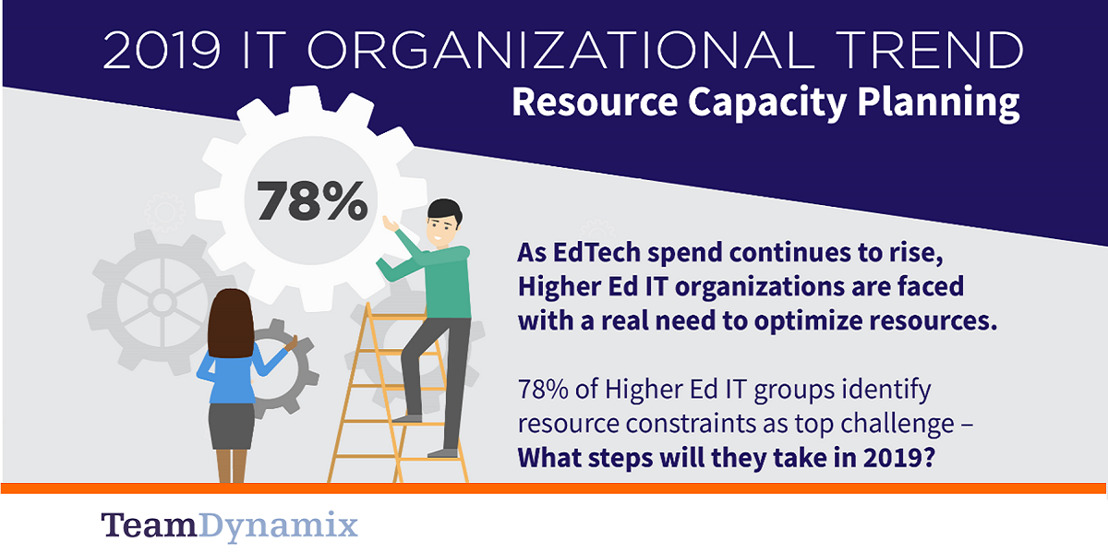 TeamDynamix Higher Education Pulse Study on IT Maturity Reveals 78 Percent of Institutions Have an Initiative Underway to Improve Resource Optimization
Universities and colleges have initiatives to prevent resource constraints from adversely impacting growth and student services
Tuesday, January 22, 2019 —

COLUMBUS, Ohio – TeamDynamix - providers of cloud-based IT Service Management (ITSM) and Project Portfolio Management (PPM) software built for education and the public sector and healthcare - recently conducted a pulse study to examine key initiatives within higher education IT organizations in which 78 percent of participants identified resource constraints as a top challenge. Respondents also reported they have developed specific initiatives to help mitigate these challenges. Click to Tweet.

The TeamDynamix market study was conducted across 118 institutions varying in size from under 3,000 to over 50,000 students. The study also investigated the specific initiatives underway to help mitigate the challenge of limited resources.

Higher education institutions stated they will focus on the following three areas to help improve resource constraints specifically around service delivery.
73 percent report self-service adoption as a key area for improvement.
51 percent will engage in Knowledge Centered Service (KCS) – crowdsourcing knowledge.
61 percent will bring IT Service Management (ITSM) and Project Management together.
"As EdTech spending continues to rise and student expectations for service increase, there will be even more of a strain on IT resources," said Andrew Graf, Chief Product Officer at TeamDynamix. "We believe that a single platform approach where an organization can manage incidents, problems, and projects in a single view is needed. A single-platform approach allows institutions to engage in true resource capacity planning for faster and better service delivery."
Andrew Graf will be discussing the study findings in a virtual seminar on January 31 at 2:00 p.m. EST. Click Here to register for this event.
About TeamDynamix
TeamDynamix offers Service and Project Management together on a single cloud-based platform. TeamDynamix transforms IT from order taker to strategic innovator. Organizations in the public sector, education, and healthcare leverage the solution to improve IT maturity, optimize resources, and deliver enhanced end-user service. TeamDynamix offers IT Service Management (ITSM), Project Portfolio Management (PPM), and Enterprise Service Management (ESM) together in one solution. More at TeamDynamix.com, @TDXBuzz, LinkedIn.
###
Summary: In a TeamDynamix study of IT maturity in higher education, IT departments report that resource constraints are a top challenge.
Tweet: TeamDynamix (@TDXbuzz) study: 78% of #HigherEd IT feel resource are constraints top challenge. Will work to improve self-service, KCS, combine project management & ITSM. Learn more on Jan 31 http://bit.ly/TDXwebinar0131
Tags: TeamDynamix, TDX, ITSM, PPM, project portfolio management, IT support, higher education, higher ed, education, public sector, government, Pulse Study, IT maturity, resource constraints, KCS, self-service, resource capacity planning

Jennifer Harrison for TeamDynamix, J Harrison Public Relations Group