TeamDynamix ITSM and Project Management Platform Wins Tech Edvocate Award for Best Technology Solution in Higher Education
Colleges and universities have better resource management and easier delivery of service through the TeamDynamix all-in-one platform combining ticketing, change management, asset discovery and projects
COLUMBUS, Ohio. ​ TeamDynamix has been selected as the Best Higher Education Solution in the 2019 Tech Edvocate Awards. This is one of many recent honors for TeamDynamix, which won back-to-back SaaS Cloud awards in 2018 and 2019, was a double Gold winner of the 2019 Info-Tech Software Reviews for Project Portfolio Management and for IT Service Management, and also won best Higher Education Cloud-Based Solution in the 2019 SIIA CODiE Awards. Click to Tweet.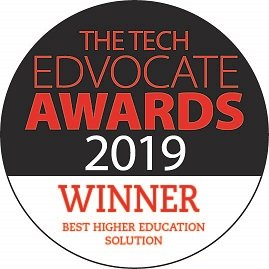 TeamDynamix is unique in the service and project portfolio management space because it provides a single platform to manage both IT Service Management and Projects. This means that resources can be allocated and viewed across the full spectrum of work assignments. A purpose-built solution for education, government, and healthcare, TeamDynamix offers an easy to use, own, and operate platform that requires no coding or scripting to configure. Organizations can improve IT maturity and deliver an enhanced end-user experience. Bound by the common challenges of rapidly increased tech spend and resource constraints, these sectors benefit from using a platform that carries a lower total cost of ownership.
The Tech Edvocate Awards are hosted by The Edvocate, a publication created in 2014 to cover K-12 and higher education policy and programs that enhance the quality of education in the United States. Judges evaluate products in a variety of categories and select a round of finalists before narrowing down one winner in each category.
In a related note, Dr. Rhonda Spells-Fentry of Prince George's Community College (PGCC) was picked as Best Higher Education Leader for her program to "stop the ping-pong effect" of students having to zig-zag among departments to enroll in courses, pay their fees, seek financial aid, or receive other student services support. PGCC used TeamDynamix as the central platform to set up a One-Stop system on campus to improve efficiencies for students and the IT assets and staff.
About TeamDynamix
​TeamDynamix offers Service and Project Management together on a single cloud-based platform. TeamDynamix transforms IT from order taker to strategic innovator. Organizations in government, education and healthcare leverage the solution to improve IT maturity, optimize resources and deliver enhanced end-user service. TeamDynamix offers IT Service Management (ITSM), Project Portfolio Management (PPM) and Enterprise Service Management (ESM) together in one solution. More at TeamDynamix.com, @TDXBuzz, LinkedIn.
###
Summary: TeamDynamix project portfolio management and ITSM platform wins Tech Edvocate Award for Best Higher Education Solution.
​Keywords: TeamDynamix, Tech Edvocate, award, project portfolio management, IT service management, ITSM, education, technology, education technology
​Tweet: TeamDynamix project portfolio management and ITSM platform wins @TechEdvocate Award for Best #HigherEducation Solution. #awards @TDXBuzz @AdvocateforEd #ITSM #PPM
---
Case Study from East Carolina University
Case Study from Johnson County Community College
Customers speak about TeamDynamix

​