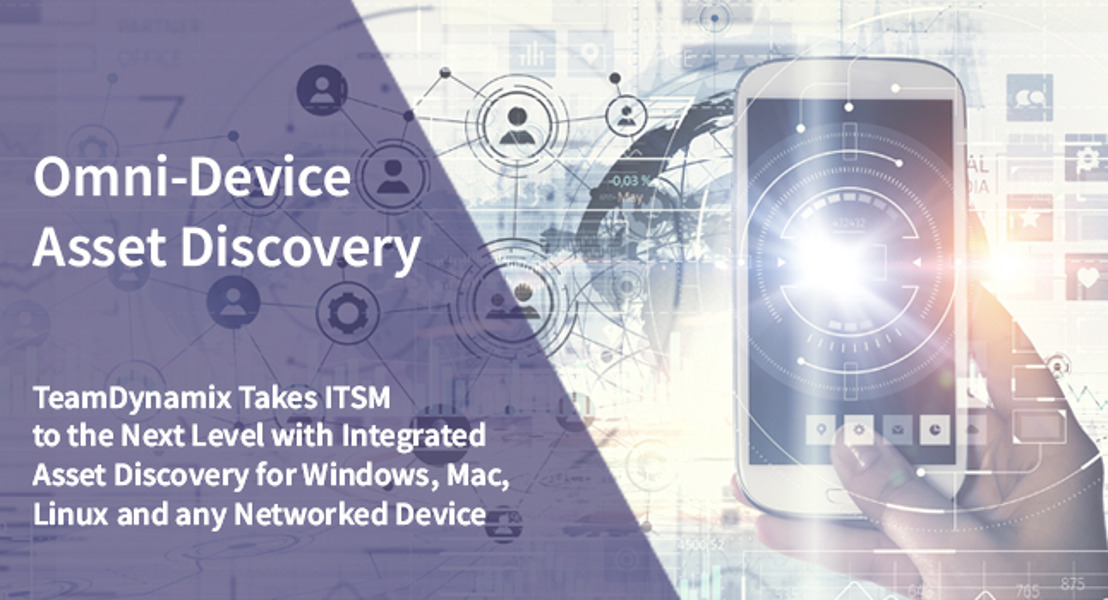 TeamDynamix Offers Omni-Device Asset Discovery Services as Part of Core IT Service Management (ITSM) Platform
IT Service Management with Asset Discovery for Windows, Mac, Linux and Networked Devices—being launched by TeamDynamix at the HDI Conference in Orlando this week—Offers Technicians an Easier and Faster Way of Managing Assets Across the Enterprise
Monday, April 8, 2019 —

COLUMBUS, Ohio –TeamDynamix (TDX) will now offer an Asset Discovery Service as part of its core IT Service Management (ITSM) Platform. IT support technicians need easy access to information about a requestor's assets in order to provide high quality service. This new service will work with the core asset management functionality within the TDX platform to offer a complete, up-to-date view of assets across the enterprise. Click to Tweet.

TDX Asset Discovery Services will look for any Windows, Mac, Linux or networked device (i.e. printers and scanners) and bring asset data into the core database within the TeamDynamix Assets/CIs application. This can be combined with manually entered or imported assets for a complete view of an entire enterprise. Asset Discovery uses active scanning and Windows-based agents to gather information about the assets in a network, then relays that information to the TDX cloud environment. The asset application administrator can then review the results of the scan and approve the discovery process to update assets within the Assets/CIs application.

"While our platform already offers asset management, we knew we could deliver even greater value to our customers by coming up with an omni-channel asset discovery service," said Andrew Graf, chief product strategist at TeamDynamix. "Our customers in education, government and healthcare are managing far more devices than in a typical corporate environment. TeamDynamix's service is omni-channel so it can discover any of our customers' networked devices—such as Windows, Mac, or Linux—and in our next phase we will also be incorporating Chromebook discovery."

The TeamDynamix philosophy is to provide a single platform for IT Service Management. This means a full life-cycle approach including problem and incident management, change management, asset management, project management, and now asset discovery. The solution also offers an online portal and knowledge base that allows end-users to easily navigate information and communicate with the core IT team.

Note: TeamDynamix's Andrew Graf will be speaking at the HDI Conference about how to develop greater maturity in IT Service Management in the government, education and healthcare sectors.

About TeamDynamix
TeamDynamix offers Service and Project Management together on a single cloud-based platform. TeamDynamix transforms IT from order taker to strategic innovator. Organizations in the public sector, education, and healthcare leverage the solution to improve IT maturity, optimize resources, and deliver enhanced end-user service. TeamDynamix offers IT Service Management (ITSM), Project Portfolio Management (PPM), and Enterprise Service Management (ESM) together in one solution. More at TeamDynamix.com, @TDXBuzz, LinkedIn.

###

Tweet: TeamDynamix adds omni-device asset discovery as part of the core IT Service Management (#ITSM) platform for #gov, #education, #healthcare. https://TeamDynamix.com @TDXBuzz #ITservicemanagement See new features at #HDIConf

Tags: TeamDynamix, TDX, ITSM, PPM, project portfolio management, IT support, higher education, education, public sector, government, asset discovery, IT Service Management, HDI

Summary: TeamDynamix adds omni-device asset discovery as part of the core IT Service Management (ITSM) platform for government, education and healthcare.